September Inviolations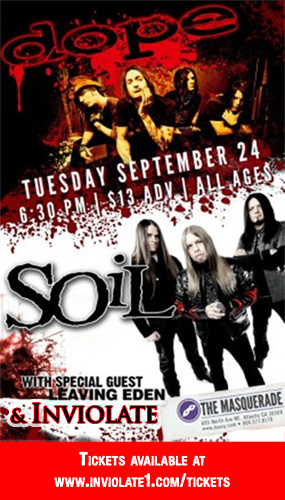 Totally stoked to be opening for SOiL and Dope on September 24th at the Masquerade in Atlanta! Tickets are available here at http://inviolate1.com/tickets (just click the flyer!) for just $13. This just happens to be the day of Kadria's birthday, so it's gonna be a killer time, even if it's on a Tuesday!
We're also going back to Columbia SC to throw down with our good friends in Decadence, Right to Fall and Robot Plant at New Brookland Tavern on September 27th. That one's only $5 for 21+. Really excited to come back to our "second home" of South Carolina, as we haven't Inviolated the state since March. We always have a rockin' time up there, and the Decadence and RTF guys always show us the best of Southern hospitality.
We've also got a few radio interviews and promo spots lining up during the second half of the month, so be sure to keep an eye out on our Facebook and Twitter pages for where and when you can read and hear us. Also, all you prog metal fans might catch a glimpse of our resident metal bellydancer during Prog Power XIV at Center Stage in Atlanta during Sept 4-7. Don't be shy, ask for a pic then tweet it/post it on Instagram and Facebook and let us know about it.
Spread the word, and spread the Inviolation!
in